The world has been swept up in the whirlwind of rapid advancements in science and technology. Artificial Intelligence (AI) has transcended its association with mere robots, undergoing a remarkable evolution and customization, finding applications across diverse sectors.
Notably, the education industry has embraced AI, employing it as a toolkit to alleviate the burdens of both educators and students, resulting in enhanced effectiveness and efficiency in their endeavors.
Gone are the days when education faculty would use blackboards, whiteboards, projectors, etc., to impart education. They are now widely using AI tools to offer a more personalized and convenient option for teaching. AI Chatbot Development has also helped students comprehend the world more vividly. Learning has now become more enjoyable than ever with the advent of AI tools.
AI is an emerging technology that will stay for a while and will shape the education sector by transforming the traditional teaching-learning method. AI in the education industry reached $4 million in the year 2022 and is expected to reach $5.80 billion by 2025. In this article, we shall discuss in detail how Artificial Intelligence services are transforming the education sector, so continue reading.
Artificial Intelligence: The Future Of The Education Industry
We are gradually moving towards a tech-driven era, so the traditional teaching and learning approach would bore the teachers and students. Smart classes integrated with various AI tools and machine learning encourage students to learn effectively. Students are exposed to enormous data sets and immersive technologies like augmented reality which are easier to grasp and analyze.
Conversational AI in education, like AI chatbot development and virtual tutors, offers amazing assistance, promoting personalized and independent learning. AI chatbots are revolutionizing education as their natural language processing and instant support provide a seamless experience to students. Interactive sessions and rigorous guidance by AI have made students learn better and retain information for longer.
Artificial Intelligence trends have fuelled rapid growth and development in the educational industry by enhancing student improvement. Interactive classes, customized courses, gamified classrooms for skill development, quick and accurate solutions, etc., have improved the educational sector. Major educational institutions have already integrated AI, while the smaller ones are yet to implement them. By 2027, AI-driven education is expected to surpass the market worth $20 billion.
Top-Notch Benefits Of AI In Education
Many educational institutes still haven't implemented AI for various reasons, but one of them is being unaware of its benefits. Little do they know is, incorporating AI development services in education can streamline various educational tasks and make the learning process effective and hassle-free. Here are some of the top-notch benefits of AI in education:
1. Individualized Learning
We know that all students cannot adapt to knowledge and grasp it similarly. Some may be quick to learn; others might take a while. The traditional teaching method is not personalized, so it would fail to meet the student's needs. AI tools in the education system meet everyone's needs by providing a customized curriculum and personalized learning based on the student's capabilities. Supporting technologies like AI and ML has also helped students learn their lessons efficiently.
2. Automated Task Completion
Artificial Intelligence Services implemented in schools and online classes help students with value-added tasks. It assists the students in solving educational problems and completing tasks quickly with few errors. Along with designing a tailored teaching process, AI in the education system can also check homework, grade assessments and tests, maintain academic reports, provide notes and make presentations, etc. This is another main reason why education industries are widely adopting Artificial Intelligence.
3. Academic Content Creation
ML and AI in education also help research experts, professors, and teachers create creative, informative, and innovative content for efficient preaching. You can also use features like AI chatbot development to create smart content for teaching purposes. There are mainly two types of smart content; digital lesson generation and information visualization. AI can create learning materials and lessons in digital formats using low-storage and design content that offer visual elements using 2D and 3D technology. All these can help students perceive information properly.
4. Adaptable Approach
Having complete access to information, students can now leverage AI advantages in education. A recent report stated that more than 60% of educational institutes rely on modern AI tools and features for academic development. Varied features like multilingual support can translate information into different languages, making it convenient for every native to understand and learn their lessons. Additionally, AI plays a vital role in educating visually impaired students or having other physical challenges.
5. Settle Classroom Vulnerabilities
One of the powerful benefits of AI technology in education is maintaining a healthy impact on the environmental footprint. This is because classrooms can be organized remotely, leading to a lesser concentration on resources. Many experts believe AI will soon replace the human touch in teaching, but it's far from the truth. Education and AI go hand-in-hand, complementing both manual and virtual teaching. Without real teachers, users won't know how to operate it in the classroom.
6. Solving Skill Gap
Developing essential skills in students is a valuable solution for businesses struggling with technological issues. Almost every company and organization is now AI-powered, creating promising training opportunities for students. However, it is not just limited to skilled students; training and upskilling the existing employees can boost morale and company performance for improvement and innovation. Apart from educational institutions, students or employees can learn operating AI tools and applications from an Artificial Intelligence development company.
7. Customized Data-Oriented Feedback
Feedback is essential in tailored learning experiences, whether in a classroom or workplace. The main difference between traditional learning and effective learning is that effective learning provides continuous feedback on your performance. It's important to receive correct feedback from trusted sources to analyze and understand where you have excelled and where you need to work hard. A data-based feedback system gives out proper results for student satisfaction.
8. Full Assistance
AI Chatbot development is a common example of how AI in education collects data to provide continuous assistance accordingly. This benefits professional experts and teachers for student engagement in customized learning solutions. Conversational AI or AI chatbots in the education system delivers quality tutoring by closely monitoring the content consumption of students to cater to their needs accordingly. AI chatbot can assist them 24*7 and deliver instant solutions, provide study materials, and conduct tests frequently.
9. Decentralize And Secure Education Systems
The education industry is coming up with rapid innovations and advancements with AI but is often hampered by challenges like data breaches, changing data accessibility, outdated certification, etc. Fortunately, AI-based decentralized solutions can bring impactful technical revolution in the educational industry. There are some AI tools based on learning management systems that can resolve authentication issues and other challenges to protect the education system from any kind of security breach.
10. Adequacy In Examinations
AI tools and applications can be widely used in interviews and examinations to detect suspicious behavior and alert the supervisor or invigilator. The Artificial Intelligence services monitor each individual through microphones, web cameras, web browsers, etc., and exhibit a keystroke analysis where suspicious movements or actions alert the system. This way, the supervisor doesn't have to keep an eye on the students while the students will give exams without any act of cheating or wrongdoing.
What Are The Real Examples Of AI Uses In Education?
Artificial Intelligence software in education is changing and improving learning opportunities by providing an adaptive learning experience designed according to students' needs and requirements. Below are examples of how global brands are merging with AI to make the student's educational journey easier and more effective.
● Google
Google Classroom is a popular tool integrated with AI to simplify teaching processes. It enables teachers to create an intuitive curriculum, design and assign tasks, provide study materials, give regular feedback, and manage other classroom activities. Google Classroom makes personalized recommendations for learning materials, supports automated grading, and analyzes students' data to provide detailed feedback on academic performance and growth.
Google Scholar and Google Translate are extensively powerful tools that enhance teachers' and students' research and learning experiences. With Google Translate, language barriers can be solved as it can provide instant texts in preferred languages. Google Scholar uses Artificial Intelligence services to determine and index research papers, scholarly articles, and academic resources to make it easier for students and teachers to find relevant learning resources.
● Duolingo
Duolingo is another well-known app that uses AI to create flexible language options for learning. Artificial Intelligence algorithms monitor students' performance, progress, and problematic areas for development and customize course contents if necessary. Duolingo is especially beneficial for students who face problems acquiring knowledge in other languages besides their native language. This helps the students develop an interest in studies, learn faster, and retain information for an extended period.
Duolingo can be a beneficial app for students when integrated with AI. The Duolingo application offers vocabulary drills, interactive lectures, and tests to assist language learners as they improve their fluency. To support students in efficient language learning, AI also includes pronunciation feedback, speech recognition, and the creation of interesting content with language translation options.
● Coursera
Coursera is a learning website meant for developing skills in learners from famous industry leaders like Google, Meta, and IBM. It uses AI development services to revolutionize online learning with personalized courses, adaptive learning ideas, and automated grading and assessments. Through Coursera and AI, students can also receive well-constructed recommendations, suggestions, assistance, and timely feedback. This will greatly help the students choose their way of learning and gathering information.
The AI algorithms in Coursera determine students' performance and preferences data to suggest relevant and quality courses and create a dynamic curriculum. They also create quality content for students based on their academic needs and preferences. Then the AI-driven software gives instant feedback so the students can analyze their personal performance and growth and consciously try to improve it.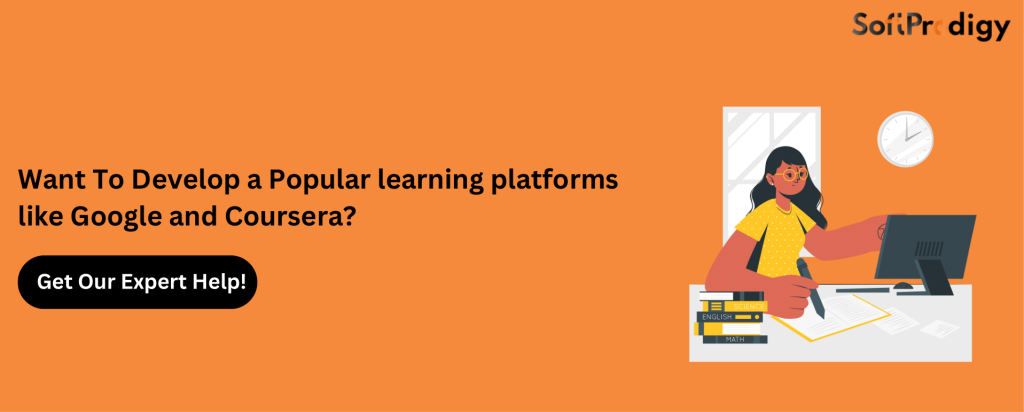 Which Are The Current AI-based Platforms In Education?
Several organizations have understood the benefits and potential of Artificial Intelligence in education and the role of AI in digital transformation agencies. It can wisely identify knowledge gaps, improve learning methods, and track students' progress in the education industry. Some of the current AI-based software in education are:
● Cognii – AI For Tutoring Purposes
Cognii has successfully implemented virtual learning tutors for students of all classes from K-12, and even high educational institutions, corporate training centers, etc. Its AI tutor offers each student conversational features, one-on-one learning experiences, and reviews.
● KidSense – AI For Taking Notes
KidSense educational platform integrated with AI is specifically designed for children because their speeches are difficult to translate. Tools like speech-to-text use AI algorithms to convert their speeches into texts to practice vocabulary, take notes, and conduct tests.
● Quizlet – AI For Robust Learning
Quizlet utilizes data and machine learning from millions of learning sessions to offer students the most appropriate study materials. It offers individualized learning opportunities for every student, which helps the students to open up and discuss freely during online classes.
Wrapping Up
Artificial Intelligence is an advanced and innovative tool used in almost all sectors. Recently, the education industry has also started to use AI tools, features, and applications to enhance teaching-learning methods. AI offers a wide range of benefits to make learning worthwhile while helping teachers deliver smart educational content to their students for effective preaching.
Popular learning platforms like Google and Coursera also use AI tools to help each student learn and acquire knowledge easily. There are also some AI-based platforms like Quizlet, Cognii, and KidSense, which could be supremely useful for your children.
FAQs
Q.1.How is AI beneficial in the education industry?
A – Unline traditional teaching methods; AI tools can cater to the educational needs of each student by delivering quality content, a suitable curriculum, and accurate feedback.
Q.2. Will AI replace real teachers in the classroom?
A – It's highly unlikely that AI will fully replace real teachers in the future. However, it would only help the teachers and students reduce their burden and simplify their tasks.
Q.3. What are some of the AI-based platforms for education?
A – Querium is a robust learning platform based on AI, which can be used for learning and skill development. The other AI-based platforms are Blippar, Carnegie Learning, Age of Learning, etc.