The digital landscape is perpetually evolving with businesses engaged in a relentless pursuit of innovation, trying to stand out in front of their audiences. Started with the idea of mere automation, Artificial Intelligence (AI) is turning out to be a technological marvel, taking the center stage in the world of digital marketing.
As per numbers, 61.4% of marketers are using AI in their marketing tactics in 2023, proving to be beneficial for both customers and business owners. Collaborating with AI, businesses have thrived and flourished through adequate planning and winning digital marketing strategies.
With such a widespread adaptability of AI, it still remains elusive for many enterprises due to lack of their AI proficiencies. This prompts a shift towards digital transformation agencies that are wielding expertise in harnessing AI's potential. In this article, we will look into the intricate ways through which businesses are leveraging AI across diverse digital landscapes to establish connections with their intended audiences and customers.
Why Do Companies Use AI in Digital Marketing Strategy?
There could be many reasons to use AI in digital marketing techniques and strategies, but mostly it is used to generate more organic leads and conversions. As a digital business marketer, it may sometimes feel like the list of tasks is endless and ever-growing.
There's always a new trend in the market which you have to follow for your company's growth and development. Social media platforms seem to be a new platform to deliver content to attract targeted audiences.
But the truth is, it may not be possible for you to hit all the marks to make your strategy successful. You'd need a little help from AI and digital marketing agencies to make your content delivery successful each time you post something. AI can perform various tasks that come under digital marketing, from advertising content to reporting on campaign metrics and many more.
AI is a powerful tool, used by professionals, business owners, and even students to their benefit. It offers a wide range of services with which you can get your work done more easily and effectively. However, companies use AI in digital marketing strategies for automation, personalization, and to receive data-driven insights. It helps them in improving customer experiences and drive better marketing results.
How Exactly Marketers Are Using Artificial Intelligence (AI)?
AI or artificial intelligence services may seem like an oxymoron, but it has become a boon for us as it's making our world brighter by computing solutions, automating tasks, and improving efficiencies. It has now become prevalent in the digital marketing domain too, by optimizing companies and making PPC (pay-per-click) advertising more effective. Integrating AI into businesses with the help of a digital transformation agency has helped in creating content for mass audiences, personalizing websites, providing seamless user experience, predicting user behavior, and more.
Businesses can use AI in digital marketing services in two ways to improve their digital marketing strategies. One, AI can be used on the backend to forecast demand, automatic ad buying, develop customer profiles, etc. Second, AI can be used as a customer-facing site to improve user experience to streamline the brand and generate more sales. Here are some essential ways companies are using AI in digital marketing: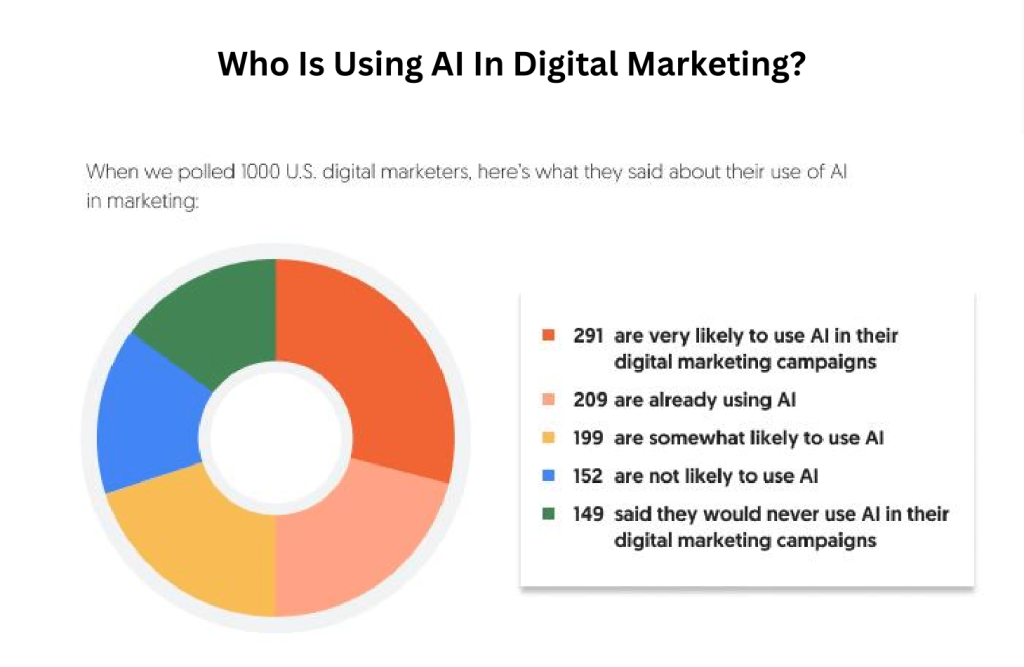 ● Chatbots
Chatbot is a robust software that can chat or have conversations with audiences and customers using AI to determine responses. It has proved to be an effective marketing tool as it can provide varied customer services which helps both the customers and the company. You might have used or interacted with a chatbot more than once while browsing through a website looking for answers to a product or service.
Chatbots gather customer data to target and sem their message on your company's behalf. In addition, it can ask more specific questions to help customers find a product and respond to their queries more precisely to clear their doubts while purchasing the product.
● Content Delivery
Implementing AI in your business with the help of a digital transformation agency can be used to collect more data about potential customers, present customers, and clients. The AI will analyze the collected data to predict the future behavior of the audience and customers and develop targeting messages for them. The content may be delivered by chatbot via dynamic content on social media, web pages, or by email.
AI can know which web pages are visited by customers, what blog posts are read by them, and which messages and emails they have interacted with more. Then it will intelligently deliver the right message and the right content at the right time by determining the past behavior of customers or audience.
● Content Creation
There has been a growing need for huge quantities of content ever since the rise of content marketing and its consumption by large audiences. Digital marketers from renowned digital transformation agencies have informed us that content creation is one of the biggest challenges they encounter. Creating quality content to impress and attract an audience takes time and a lot of effort. However, AI by digital marketing services can help you by generating some quality content for effective marketing.
The content could be in the form of articles, blogs, etc. written by artificial intelligence services. Or it can be more specific and direct such as social media ads, posts, and email subject lines written and generated by AI tools.
In Conclusion
AI has become intricately intertwined in our lives involving digital tools and technologies, making everything easier for both customers and business owners. However, business owners must learn about the benefits offered by AI to streamline digital marketing strategies and processes. They can also hire experts from digital transformation agencies to strengthen their brand and generate more revenue.
AI can be used to interact with customers and audiences for a smooth and fantastic experience. It can also be used to gather customer data to analyze their behavior to deliver content in the form of articles, blogs, social media posts, emails, etc. If you're looking for digital transformation agencies to help you with AI adoption, SoftProdigy is here to help you. Contact us today!
FAQS:
Q.1. How can AI change the future of digital marketing?
A – AI tools can identify patterns of users by collecting their data and engaging them with specific AI-generated ads and content. It will further keep delivering specific ads and content to customers and target audiences for effective digital marketing.
Q.2. What are the essential AI tools used for digital marketing?
A – Jasper, MarketMuse, Anyword, Semrush, Pro Rank Tracker, Ad Cody, etc. are some of the AI tools which can be used for digital marketing.
Q.3. Which famous companies are using AI for digital marketing?
A – There are many giant tech companies like Google, Meta, BMW, IBM, and Starbucks are some of the famous companies that use AI for efficient digital marketing.