Every business owner knows the significance of choosing the best eCommerce platform for their businesses. This is an important priority for businesses, as online retail sales may surpass $7 trillion by the end of 2025. Besides that, 63% of customers start their shopping journeys online, leaving no room for complacency.
However, with many available alternatives, picking the best eCommerce platform for your business can be challenging. Yet Magento and Shopify are the top candidates when businesses look to start an eCommerce platform. Both these platforms have advantages and unique characteristics, making them unique in their own ways.
But which of these two would be the best eCommerce platform for your business? Magento or Spotify? Let's find out!
Overview of Magento And Shopify
Every business and organization has unique needs and requirements, making picking the best eCommerce platform challenging. Understanding Magento and Spotify will help you make an informed decision and choose the right platform.
What Is Magento (Adobe Commerce)?
Magento, currently known as Adobe Commerce, is a unique eCommerce platform equipped with a plethora of features and functionalities. This open-source platform offers unmatched customization abilities best suited to versatile businesses.
The platform is optimally designed to help businesses transform their digital storefront based on the needs and preferences of their business.
What is Shopify?
Shopify is another prominent eCommerce platform that helps digital online stores establish and strengthen their online presence. This platform has multiple features suited for different businesses based on their scale of operations.
This means every business, from large-scale corporations to start-ups and small businesses, can leverage Soptify's features to their advantage. The best thing about Spotify is that it provides businesses with numerous pre-installed functionalities and a highly interactive user interface.
Key Differences Between Magento And Shopify
With a better understanding of Magento and Shopify, it is important to evaluate their differences to help you choose the best eCommerce platform. This will help you better understand the best-suited platform for your business. So, let's dive in!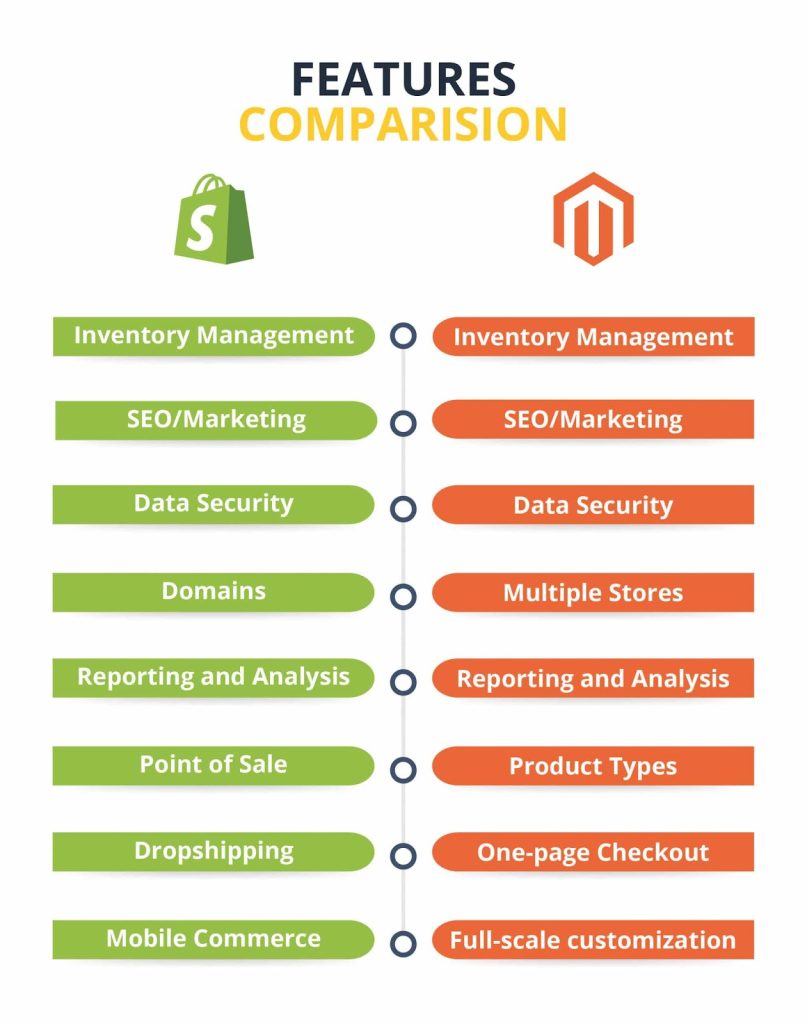 ● Cost And Pricing
Pricing is always an important factor for businesses regardless of scale or industry. This has a direct impact on the budget and profitability of your business.
Magento Pricing
The best thing about Magento is you can download it for free, install it, and set up an online store without any monthly fee. However, there is a catch here since you will need a hosting provider and server for launching your website on the internet.
Hence, Magento pricing can vary based on your chosen hosting provider and server type. You can even leverage the Magento App Market to add enhanced integrations at varied costs.
Shopify Pricing
Unlike Magento, Shopify leverages a subscription-based pricing model with three primary pricing tiers. These tiers start from a monthly subscription of $39 and range to $399 for a month.
But the good news is these subscription models include hosting and server costs, saving you the hassle. Another important thing here is website templates are much more affordable in the case of Shopify.
● Usability
Usability is important for businesses lacking technical skills to design their websites. Even if you are familiar with web design basics, a better- usability platform can save a lot of time and effort.
Magento's Usability
Navigating through Magento's interface can be challenging if you are not a tech-savvy business owner. While you will have complete control over the platform, you still require comprehensive technical knowledge to install the platform and set up your website.
Shopify's Usability
If you are not looking to hire eCommerce developers for your business, then Shopify is the right choice for your business. Shopify offers unmatched usability even without the need for any comprehensive technical skills.
● Sales And Marketing Features
Search Engine Optimization (SEO) is integral to running a successful online business in today's competitive business environment. Understanding if your preferred eCommerce platform offers necessary sales and marketing features is important.
Sales And Marketing Features in Magento
In terms of sales and marketing features, Magento offers SEO features you can use to edit page descriptions and titles easily. This will help you better define your online store without hiring any additional Magento eCommerce development services. You can use these Magento marketing tools to create appealing landing pages and offer discounts on abandoned carts.
Sales And Marketing Features in Shopify
In terms of SEO, Shopify offers some basic features that help edit titles and descriptions on your pages. You can even access more advanced SEO features and applications from the Shopify App Store but at a cost.
Shopify also provides users with email marketing features that allow them to edit emails based on their preferences. You can also use Shopify for social media marketing across different platforms such as Twitter (X), Facebook, Instagram, and LinkedIn.
● Templates And Themes
Your customers' first impression of your business is much more important than you might imagine. This makes it important to have seamless access to themes and templates that set your website apart.
Magento Templates And Themes
Magento is known for charging $499 for nine responsive themes that it has to offer. But the good thing here is you can create these themes right from scratch as long as you have adequate coding knowledge. You can even drive better engagement with appealing animations that Magento offers.
Shopify Templates And Themes
The Shopify Theme store offers more than 140 theme alternatives, making finding the right theme for your online store much easier. However, even these themes come with a price tag ranging from $170 to $380.
The best thing here is that you can access the drag-and-drop editor feature to alter elements in your theme. This offers better flexibility and customization abilities to represent your business in the best light.
● Reports And Analytics
Data is the new gold of the 21st century, and businesses failing to use it to their advantage might lose out to competition. This makes evaluating both eCommerce platforms' reporting and analytics abilities important.
Reports And Analytics in Magento
Magento reporting and analytical abilities can vary based on the extensions, versions, and integrations you use. This might allow you to access features such as review tracking and customer and sales tracking. Besides, you can even integrate Google Analytics 4 into your website and access better analysis.
Reports And Analytics in Shopify
Shopify has many report and analytical abilities designed to help businesses drive informed decision-making and mitigate losses. You can use the platform to access metrics on customer behavior, store performance, and sale trends.
You can even access the Shopify Analytics dashboard to access customized reports highlighting the metrics that interest you the most. You can even use it to get live updates of current visitors and orders with the total time people spend on your website.
● Extensions And Apps
Adding the right functionalities to your website is key to enhancing your reach and attracting more customers. This is what makes extensions and apps so important when choosing the best eCommerce platform.
Extensions And Apps in Magento
The Magento marketplace can give you easy access to more than 3800 extensions. But the catch here is that you will require comprehensive coding knowledge to install and implement these extensions. The platform provides you with a wide range of highlight extensions that can be very helpful for your website.
Extensions And Apps in Shopify
This is another area where Shopify leaves Magento behind with more than 8,000 paid and free apps. You can use these apps to add advanced features to your online store with better control to help you drive better sales. This is great for start-ups and small businesses that might not always have the budget to hire Magento developers.
Bottom Line
There is no denying that picking the best eCommerce platform for your online store is anything but easy. One easy way to make this decision easier is by evaluating your business's specific needs and requirements. This will help you make more informed decisions and pick the eCommerce platforms based on your needs. If this seems much more challenging for you, you can even consider hiring a reliable custom eCommerce website development company for your needs.
Frequently Asked Questions (FAQs)
Which is more budget-friendly: Magento or Shopify?
There are no predetermined pricing packages with either Magento or Shopify. Instead, you must evaluate your website's unique needs and requirements to determine specific prices.
Is Shopify good for eCommerce stores?
In terms of comparison, Magento and Shopify are great eCommerce platforms. But Shopify does have the upper hand on Magento in certain areas, making it well-suited for eCommerce stores.
Is it possible to migrate from Magento to Shopify?
Many unique extensions can help you seamlessly migrate from Magento to Shopify. These extensions will help you migrate all essential data, such as customer details, products, and orders.