Rapid digitization and increased access to high-speed internet have transformed the business world significantly over the years. But this also presents an excellent opportunity for conventional businesses to leverage the potential of technology and drive better sales. Retail eCommerce sales around the globe now stands at a staggering valuation of over $6 trillion.
As a result, more and more businesses are now looking to explore the opportunities that come with online businesses but are confused about the cost of starting this venture. The cost of starting an online business can vary based on different factors, such as the online store builder you use, the business model, and more.
This article will dive into the nuances related to the cost of starting an online business to help you get a better idea. So let's get started!
Different Online Business Models, You Need To Know About
Before you get started and build your eCommerce store, there are some important things you need to know about different business models. The overall cost of building an online store will be directly impacted by the type of business model you choose. So, let's check out some of the best-known of these business models.
● Wholesale Online Store
As the name suggests, a wholesale online store is a business model where you purchase inventory from manufacturers and sell it to retailers or other intermediaries. This means you need not worry about manufacturing or selling the goods to the end customers. Instead, you simply operate as an intermediary, buying products from one business and selling them to the other.
● Dropshipping Online Store
Dropshipping has become very popular in recent times mainly due to the convenient nature of this business model. This unique business model lets you take customer orders through your website and relay the information to the merchant or seller. This way, you need not sweat over the complications related to storing and shipping the customers since the merchant will manage all that.
● Private Label Online Store
Private label online stores are amongst the most common online business models in today's day and age. This is where you will have to manufacture your products bearing your brand's name. You then sell the goods directly to the end customer through your website. Hence, this business model is not much different from conventional businesses, except you need not deal with the hassle of maintaining a physical store.
● eCommerce Online Store
This is by far one of the most convenient and popular online business models where you sell your products via eCommerce applications such as Flipkart or Amazon. This business model is a great way to reach an existing customer base while sharing a certain profit percentage with the eCommerce platform. You can use these platforms to sell your brand products or other brands based on your preferences.
Online Store Development Cost Based On Business Scale
Now that you have a better idea of different business models you can choose for your online store, it is time to break down costing factors based on business scale. The business scale will determine if you need to use a simple online store builder or hire an entire eCommerce development agency. So, let's get started and better understand these scalability factors.
● Sole Entrepreneurs
Solo entrepreneurs are largely small-scale businesses run and managed by a single individual. These individuals can leverage the eCommerce online store business model and access a well-established online marketplace. Many existing platforms, such as eBay, Amazon, and Flipkart, are optimally suited to help sole entrepreneurs start a business.
Users can simply register into their merchant accounts on these platforms and set up product pages featuring their offerings to a larger audience. Following this, they can configure their storefront with an online store builder to ensure it is visually appealing to buyers.
The best part is that you need not have any advanced technical skills to start such a business. However, you will need to pay the eCommerce store in terms of sales or merchant account subscription based on the number of products you list.
● Medium And Small Scale Online Business
The next popular business scale is medium and small, which might need to invest in their end-to-end eCommerce store. In this case, you need to leverage the potential of an online store builder that offers customizable themes and relevant functionalities. These online stores represent your business in the virtual world, making it important you make all effort to stand out.
Many platforms, such as Squarespace, Shopify, and BigCommerce, can help you get started with such a business in no time. You can use these platforms to host, design, and configure an online store that resonates with your target audience. You can access pre-existing templates for your store and make necessary changes based on your needs and preferences.
The best part about such an online store is they barely cost much as long as you are going for a simple and basic store. However, if you are looking to build a more advanced online store with better features and functionalities, then the prices might increase. But this will entirely depend on the features and functionalities you want in your online store.
● Enterprise-Grade Online Store
The final online store scale you need to know about is the enterprise-grade online store. Unsurprisingly, the cost of building such an online store can be significant since you might need to leverage custom eCommerce development services. In some instances, businesses even need to hire a full-service development agency to build and manage the business.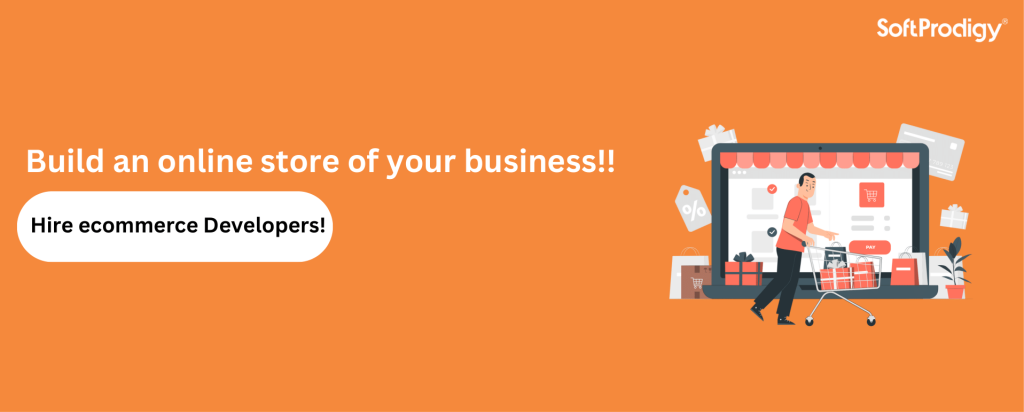 Platforms such as WooCommerce, Adobe Commerce, and even PrestaShop are best for creating an enterprise-grade online store. But even so, you must hire eCommerce developers to code the eCommerce website from scratch.
This means building custom features, attaching third-party services, adding payment gateways, and hosting the eCommerce platform in a given environment. All these factors combined can drive up the cost of creating such an online store significantly. However, given the scale of such a business, such a cost upfront can be highly beneficial in the long term.
Online Store Development Cost Breakdown
With a better understanding of different online store business models and scales, it is time to evaluate factors directly impacting the cost. Evaluating these factors will help you get better clarity on areas where you might be able to save up on costs without compromising on quality.
So, let's break down these factors individually to get a better understanding.
● Domain Name And Hosting Cost
Every online store needs a domain name that sets it apart from other businesses in the digital world. However, this domain name comes at a cost; customers can use it to find and access your business' offerings. You can get this domain name from different online store builders, and the cost should not exceed a $10 limit annually.
Following this, hosting comes into the picture, which allows you to put your website in a specific place on the internet. There is no shortage of hosting providers in the market, and their charges will differ accordingly. Besides that, the price for hosting will also vary if you choose a dedicated or a shared hosting.
In the case of a shared hosting server, your website will share the server with other websites. On the other hand, a dedicated hosting server means your website will get a dedicated hosting server. Small businesses should start with a shared hosting server and eventually move to a dedicated server as your business scales.
● Secure Sockets Layer (SSL) Certificate
Security is one of the most important aspects of running a successful online store. This is where the SSL certificate will help encrypt your customers' sensitive information. This is a great way to enhance your business' credibility while ensuring safety for customer's addresses and payment details.
Every website with "https" in its web address, along with a padlock, assures the website's safety. The overall cost of an SSL certificate can vary based on different factors, such as third-party web hosts or security plugins. For instance, using third-party web hosts gives you access to SSL certificates for free or for a small fee. On the other hand, if you are not hosting your website on a third-party server, you must buy an SSL certificate that can cost up to $1500.
● Online Store Size And Design
Now that you have addressed most of your online store development's technical aspects, it is time to determine the design cost. The overall cost of your web design can vary based on the features and functionalities you wish to see on your website. If you wish to integrate more complex and intricate features, it will automatically drive up the cost.
However, if you wish to leverage the services of a third-party host, this cost might come down as you can access pre-built templates. But again, if you wish to leverage the web design services of an eCommerce development agency, this cost might increase. The general cost of designing your online store can range from $3000 to $25000 based on your needs.
Lastly, your online store size is another factor you need to be mindful of. This means if your online store features multiple pages, it will automatically drive up the cost and vice versa. But no matter what, your online store must have a contact page, a home page, and the about us page.
● Online Store Functionality
The overall functionality of your online store is another factor that can influence the final cost significantly. For instance, suppose you have a basic website and need to add some functionalities; this will automatically drive up the cost. On the other hand, you can leverage third-party online store builders; this cost might be low initially but increases as you scale.
Most third-party online store builders will provide different plugins to enhance the website's functionality. You will need to pay for these plugins monthly or annually. Lastly, you will need to pay more to integrate new functionalities if you are hosting your store yourself. Hence, it is fair to conclude that functionality can cost you anything from $2000 to $20000 based on your needs.
● Integrating Data
This is your final consideration for evaluating the cost of developing an online store, yet one of the most important considerations. Database integration is all about collecting and storing important information about your target audience and customers. You can then use this information to facilitate better marketing and generate more results.
This is important for online store development since it helps you take your offering to the right audience and customers. This will help you better understand your customers and facilitate better marketing to drive sales. The cost of data integration can vary based on the scale and nature of your business.
Wrapping Up
Building an online store in today's competitive business environment can be daunting without proper knowledge. However, understanding all cost-related factors can help you facilitate better planning and budgeting for a sustainable business model.
It is always better to start small with online stores and scale your operations with increased orders. You can then evaluate different aspects of the business and get more clarity on the cost of developing an online store with or without an online store builder.
Frequently Asked Questions (FAQs)
Q.1. How much does it cost to develop an online store in 2023?
A – The cost of developing an online store can vary based on multiple different factors such as your business's needs, industry, and more. It is better to evaluate these factors first and then determine the cost accordingly.
Q.2. Does business scale influence the cost of developing an online?
A – The scale of a given business directly impacts the overall cost of developing an online store. The more you scale your business, the more expensive this becomes.
Q.3. Is it challenging to create an online store?
A – Businesses with the right knowledge and resources can create an online store store without any complications.