Considering the impact of the pandemic on businesses, efforts around new product design and development have skyrocketed. According to a report by Statista, 29% of tech companies planned to leverage product development post COVID-19. While some businesses focused on launching new products, others planned to improve the existing ones.
The concept of the new product development process is both exciting and difficult, especially if you've never done it before. Luckily, there's a tried and true framework for product development that will help you bring your product concept to life.
Whether you are a seasoned business owner or an aspiring entrepreneur, the new product development framework would help you bring your product to life. Read on to discover more about the new product development process in 2023.
What is the New Product Design and Development Process?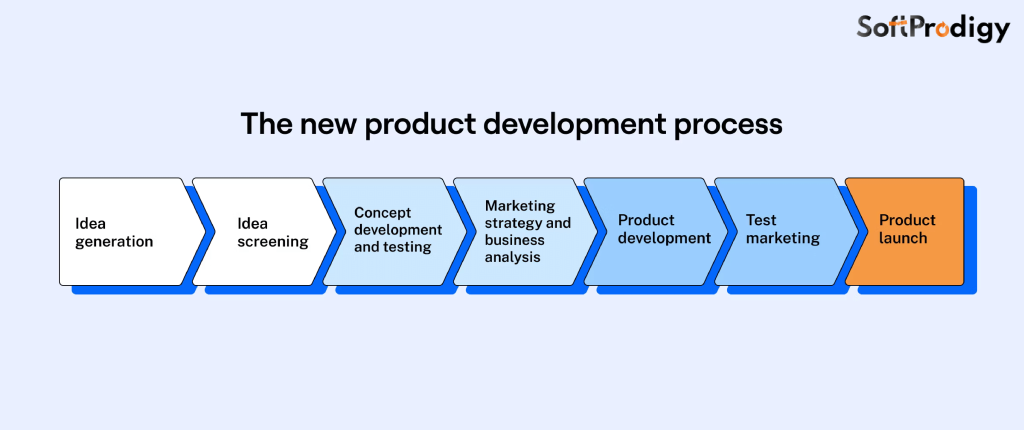 The traditional product development approach is all about building a new product. It begins with initial brainstorming sessions and ends with a successful launch. Whereas, new product development is a meticulously implemented process to help modern businesses obtain new products more efficiently and effectively.
New product design and development is a comprehensive set of actions through which a business visualizes and delivers a new product offering. This process includes everything from determining the best product-market fit to determining the optimal approach for launching the product. The purpose of product design and development services is to:
Humanize technology to cater to the needs of end-users
Create new business prospects
Expand existing businesses
Increase profitability and productivity
Enhancing customer pleasure
While traditional product development focuses on products that already have a POC (Proof of Concept), new product development focuses on new concepts with uncertainty around their development and subsequent adoption. This approach keeps a company competitive in an ever-changing marketplace.
Product Design and Development Example
The product development process varies by industry, so let's take a common industry, for example. Food and beverage products are easy and cheap to develop.
To move from a recipe to a packaged good that you can sell online or offline, you first need to find a commercial place to produce and pack the food item. Other key factors to consider include:
Product labels and warnings
Laws and regulations
Manufacturing and expiry dates
What are the Stages of New Product Design and Development?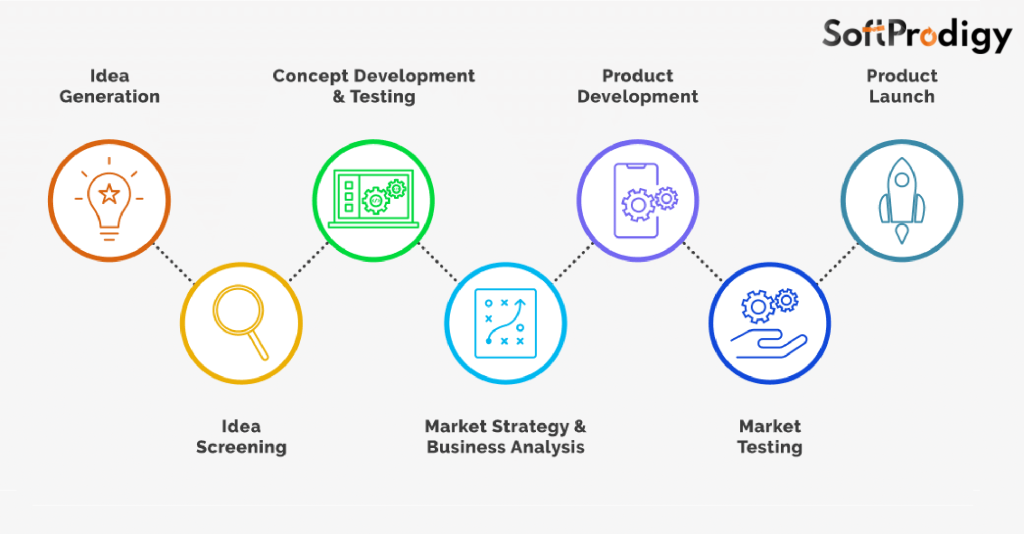 You have a product idea that can bring value to a target market, but you are not sure how to bring your product to that market. From initial product concept and ideation to research and prototyping, follow these stages to get started:
Stage 1: Product Idea Generation
It all begins with idea generation, which is one of the most crucial stages of new product design and development. This phase entails brainstorming an idea that solves the problems of your customers. Keep the following factors in mind when brainstorming ideas:
Target audience: Build a consumer profile of your target audience, including both existing and potential customers. This helps you ideate a product around your target audience and their pain points.
Existing products: It is best to evaluate existing products in the market when you have a new product idea in mind. There may be existing products that solve a similar problem. If yes, evaluate how your new concept is different from theirs.
Functionality: No need to create a detailed report of product functionality. Just have a general idea of what functions the product is going to serve. Consider the look and feel of the new product with the help of a

product development company

.
Analysis: Analyze the product's strengths, weaknesses, and potential threats early in the process to build the best version of your new concept. This will help you ensure that your product is different from competitors.
SCAMPER model: This is a great method to quickly come up with new ideas by asking questions about existing products. It involves substituting, combining, adapting, modifying, putting to another use, eliminating, and rearranging an idea.
Stage 2: Idea Screening
The next product design and development stage revolves around picking a product idea with the highest potential for success. This stage requires putting all the generated ideas on the table for internal review. Then start turning to people with industry knowledge and expertise for idea screening. A proof of concept (POC) will help check the idea's feasibility.
Investing your time in SWOT (Strengths, Weaknesses, Opportunities, and Threats) analysis can be a great way to shortlist new product ideas. In a SWOT analysis, an agile product design and development company conducts a detailed analysis of the ideas to identify an idea where strengths overpower weaknesses.
Stage 3: Concept Development
There is a 17% chance that a product idea could fail, just because it is a poor product. So, rather than developing and testing the product itself, create and test the concept, which is a thorough version of the product. For example, a car concept would include a frame, wheels, and seats.
Concept development ensures that pain points in the approach are discovered sooner and your product design and development company can course-correct earlier. This would also help you ensure that technical debts won't accumulate. The key steps involved in concept creation are:
Assessing the gain/pain ratio of the product
Performing a competitor analysis
Identifying the core product features
Creating a value proposition chart
Testing and fixing the concept
Stage 4: Business Analysis and Marketing Strategy
The role of business analysis is to help you determine whether the new product is worth-investing. On the other hand, marketing strategy is all about drafting a way to reach out to the targeted market or audience. This strategy often includes McCarthy's 4Ps of marketing:
| | | | | |
| --- | --- | --- | --- | --- |
| 4Ps | Product | Price | Place | Promotion |
| Meaning | Finalizing the product based on the concept | Estimating the product licensing cost and profit margins | Distinguishing the new product by highlighting hero features | Communicating how the product solves the problems of customers |
| Purpose | Product design and branding strategy | Discounts and payment modes | Finding mediums to reach out to the audience and maintaining fair communication | Finalizing product distribution strategies and defining the product's scope, local or global |
Step 5: Product Development
Now that you have done the business analysis and created a marketing strategy, time to build the first edition of your product – known as a prototype or minimal viable product (MVP).
You will have a physical representation of your product idea now, which you can test in real life. You can even introduce and deploy it in the market with minimal features.
Based on the feedback from users, modifications can be made to improve the final product. Involving customers in the early stages of product design and development will place you in a stronger position to create a powerful product.
Stage 6: Deployment
Once the prototype is ready, start deploying the new product in the live environment. It involves investing in DevOps and implementing the CI/CD pipeline. Quality Function Deployment (QFD) is a popular method for building well-planned products.
This method helps implement various technical support tools and technologies in product design and development. The different stages of product deployment include:
Commit: Integrating new features with the code for the existing features
Build: Pushing the software artifacts into the registry
Alpha deployment: Testing the performance of the new builds
Beta deployment: Manual testing to validate the product's performance
Production deployment: Pushing the product into the live environment
Stage 7: Commercialization
Finally, commercialize your product. This simply means launching your product and implementing it on your social media channels or website. Here, you will need to spend on advertising, product promotion, and other marketing operations. Below are some of the most important considerations to make during the commercialization phase:
Calculate the global market for your new product
Offer an appropriate quantity based on the market estimate
Stick to a marketing or advertising strategy that works
Prepare your customers for a new product launch
Choose a launch date and location for the product
Keep a keen eye on your product's performance
Congratulations!
Your final product is successfully developed and launched. All that's left now is to track its success with some initial success metrics. This product design and development process would help you simplify each step with proper team collaboration. You might need assistance along the way. So, consult an agile product development company! Their expertise would help you with a better understanding of the technical side of product design and development services.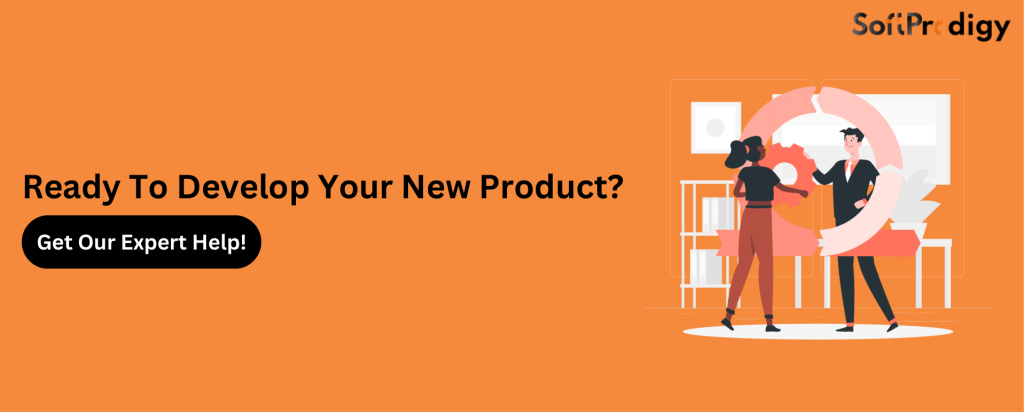 FAQs:
What Differentiates Product Development from Product Management?
Product design and development refers to the conceptualization and development of a new product and generally involves a specific strategy to bring a concept to life. Whereas, product management guides all product teams toward planning a usable product that customers will use.
Why Should I Consider New Product Development?
The idea behind new product development is to help modern businesses achieve organic growth faster by creating problem-solving products. Some good reasons to consider new product development include:
Meeting the changing consumer needs
Maintaining a competitive edge
Helping solve a unique customer pain point
Launching new products in new industries or markets
How to Successfully Launch a New Product?
To launch new products successfully, you need to follow some crucial steps that include creating a checklist for product launch, knowing the target customers, making a plan for how to market the product, setting a launch target, and tracking the progress.
Does SoftProdigy Work in the New Product Development Space?
Yes, we help startups, SMEs, and enterprises build new products in the web app and mobile app space. You can browse our product design and development services to know how our product development company can help build new products and take them to the market.